As the world has been adapting to new trends and rising advertising growth, it can be tough for small businesses to jump into advertising all of a sudden, without any prior understanding. Some small businesses or startups stick to their old selling policy which has shown growth so far, yet the steady growth through the old selling policy through organic ways isn't going to be stable for long.
When we spoke to one of our clients about investing in Advertising or allocating a budget for advertising, their question was "Why would I !! when I can already see growth through organic ways like paying between $2 – $10 for a lead"
It's a common question among small businesses and startups. Why Would you invest in advertising, especially search advertising if you can already see growth through organic ways? Well, here we have pointed out the 
Organic growth scenarios, 

possibility of organic selling success rate in future, and 

most important of all

"How just $2 – $10 in advertising can get you more than just a lead?"
What is Search Advertising?
Paid Search Advertising is one of the most commonly used Pay Per Click (PPC) advertising, in which companies or small businesses or startups invest in keywords relevant to the business or product or service. Using an auction-based model you can get to rank your search ad with relevant keywords, Here is how it works
As you can see in the above image, we used three keywords in Google Search "Online + Teacher + UK", usually when you search without any location, Google search displays results that are close to your current location. These search ads are a combination of
Headline

Display Url

Description Text
So whenever you search for a specific search term, Google is going to rank your ads based on the keyword relevancy within these three sections. Like a trigger that displays your ads when specific keywords are used. Google search engine handles 2+ trillion searches like this per year and that's over 5 billion searches per day.
Organic growth scenarios and the slim possibility of organic growth success rate in future
While organic optimization is still extremely crucial for driving new sales or leads, paid search advertising is now more vital than ever for startups or small businesses looking to generate more brand awareness and revenue. According to Statista, Google Ad spending will increase by more than 800 billion US dollars in 2022 without a declining ratio and consistent growth rate.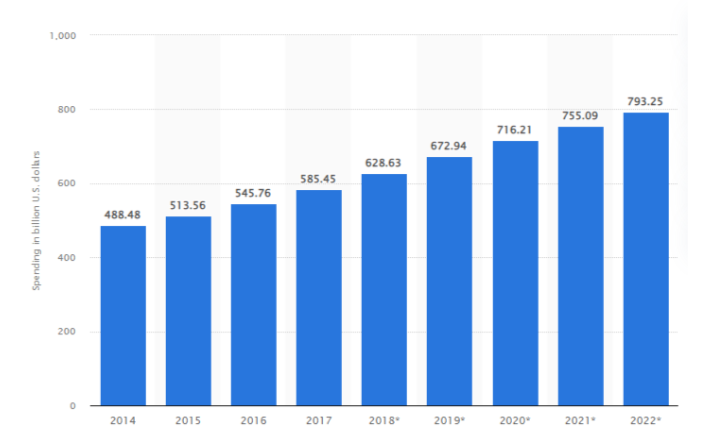 Businesses are investing aggressively in Google Ad spend, particularly in Google Search Advertising, making it all the more crucial for you to jump in and take the lead today with UTDS Optimal Choice.
Top 4 reasons to choose search ads if you're a starter in advertising
Startups and Small Businesses cannot afford to devote the time required to only rely on Search Engine Optimization (SEO) to improve their business performance. While organic results focus on comparative website content, website designs, SEO etc.. which can be helpful in long-term growth. However, search advertising helps you reach your audience much faster and create an online presence before your organic strategy methods start to work for your advantage in Google Search ( If done right). This makes search advertising an excellent short-term and long-term approach for increasing your business's visibility and ranking your website in Search Engine Results Pages (SERP) sooner.
In Search Advertising Campaigns, you can use different keywords relevant to your business or product or service as a trigger point. Along with negative words that are irrelevant to your business or product or service. By doing this, your search ads are narrowed down to target a specific group of audience who is searching for the product or service you sell, this makes the search ads a lead magnet to attract highly convertible leads.
Most companies have a specific group of audiences, especially local audiences or national audiences or international audiences if you ship and provide service worldwide. 
For Example: When I was writing a blog post about "Plumbing Company in Birmingham", I forgot to mention the location of the service provider and service providing area. However, I attached a statistic data of the United States plumbing reports. Our Director was like, "Lol Plumbers ain't going to travel to the United States from Birmingham just for removing sink blockage" These are Birmingham Plumbers focusing on a local audience.
That's how targeted audiences work, targeting a specific group of audience who might truly be in need of your service or product, this makes the search ad more worthy in creating a potential audience or generating a highly convertible lead for your product or service.
You can invest even a smaller budget
One of the finest advantages of Google Search Advertising is the opportunity to target your audience within your budget, no matter how large or little. Using the above Google Ads Strategy, you can narrow down your targeted audience who can be high convertible leads, pay for either Pay per click or pay for 1000 impressions. This allows you to limit your daily search advertising expense by selecting a maximum or minimum bid budget.
How can a Google Partner help get you started in Search Advertising?
We are UTDS Optimal Choice, a Certified Google Partner and Growth Expert in Tirana, Albania. We are tight knit team of experts from multiple countries focusing to create a digital market for every business.
We believe that every step toward success should be invested carefully. How about a call to help you make a wise decision for your future business growth?