When it comes to advertising your local service business, you have a lot of options. From Google's location extensions to niche directories and social media sites, there's a lot to keep track off. Luckily, with a little research and patience, you can find the perfect advertising solution for your business.
Google local service ads are an excellent way to reach local consumers. The No.1 reason? They're local and they are specifically designed to target potential customers and audiences within certain perimeter, location, and county etc.. In recent years, Google local service ads have increased in popularity, especially among local service providers as they have been given unique window of opportunity to target users who are most likely to be interested in their services in the specific location.
For example: User in need of plumbing/electrician services will receive ads of service provider in the specific area. Most importantly, you won't be charged for the click like search/display ads, rather you will be charged only for the lead you receive. Check our Ultimate Guide to Local Service Ads to know more.
In this blog post, you will learn about the best practices for running local service ads campaigns.
 Contact us for free consultation, and we can help set up your local service ads.
What are Google local service ads?
Google local service ads are a great way to promote your business locally. They're so easy to manage, affordable lead cost, and they have potential to reach every corner of the location you target. Plus, these Google local service ads are designed only to appear when someone searches for a service near them. This will save you from irrelevant clicks and unnecessary ad expenses.
If you're thinking of running a local service ad, there are a few things you need to consider;
First, you'll need to decide which location you want to target: Our advice, never target more than one county in a profile. You can have multiple profiles for multiple locations, yet never ever target two locations in one profile.
Second, you'll need to determine how much you're willing to spend: Local service ads typically cost around £6/lead in normal days and the price you're willing to pay also determines the number of leads you receive every day. Which is a small price to pay for the exposure your business will receive.
And lastly, you'll need to create your ad: This can be done with the help of Google Partner UTDS Optimal Choice. So if you're looking for a way to promote your business locally, local service ads are a great option.
Tip: Google ads are mostly pay per click, and ad rank is based on factors like bid, keywords, ad placement etc.. However, Local service ads (LSAs) are pay per lead and ad rank is based on factors like customer reviews, proximity distance, bids, and working hours.
Among many other benefits, local service ads also increases your website views and the number of impressions, which helps your website to rank in Google search engine results page (SERPs). Most important of all, you will be charged only for the leads you receive.
Google local service ad categories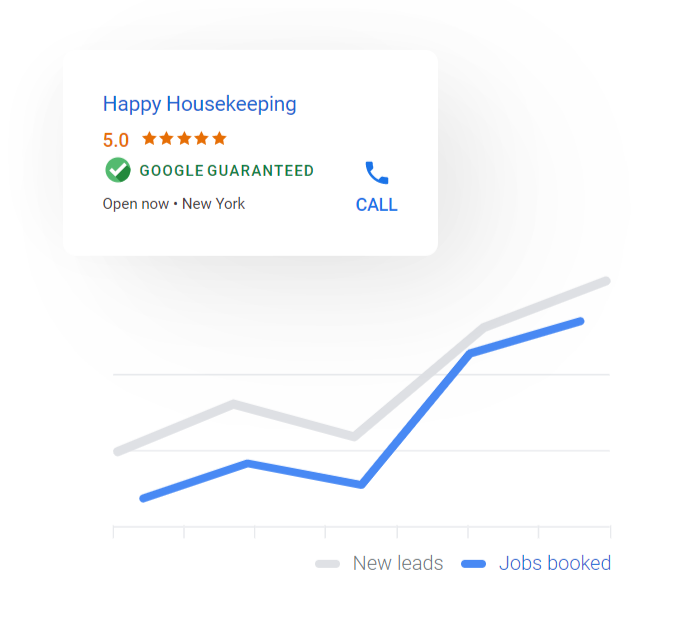 Google has two types of local service ads categories;
Google screened:
Google screened is a verification system used for white collar service providers like "Lawyer, Accountant, Real estate broker etc.." It distinguishes the legit and fake entities, so people don't regret choosing a firm through Google local service ads.  Also, as shown in the above image, Google Screened badge/tag will be placed on the local service ads once the service provider completes Google screened verification.
If you're going to question about benefit, Google local service ads rank your advertisement based on certain factors like legitimacy, positive reviews, response time etc..By verifying your business, your ad rank increases and gets more leads than the ads that hasn't verified.
Google guarantee:
Google guarantee verification system is used for blue collar industries like "Plumber, Housekeeper, Locksmith, etc.." This verification system is completely different from Google screened, however they both have the same purposes, legitimacy.
If your business is verified by Google guarantee and your customers were not satisfied with your service, then they can report it directly to Google. Google may or may not within it's sole discretion can reimburse the customer with the service fee they paid for the service.
At the same time, Google may block the service provider from advertising if such report is received. 
Call us to know more in detail, Are you a service provider or solopreneur? How about we give you a push with affordable Google Ad strategies.
To qualify for local service ads as mentioned above, you should meet this following requirements;
Minimum 3.0 business profile rating, above 4.0 is perfect

Work with a Google partner

Documents and business details for local service ads implementation

Finally weekly/monthly budget
Google Local Service Ads best practices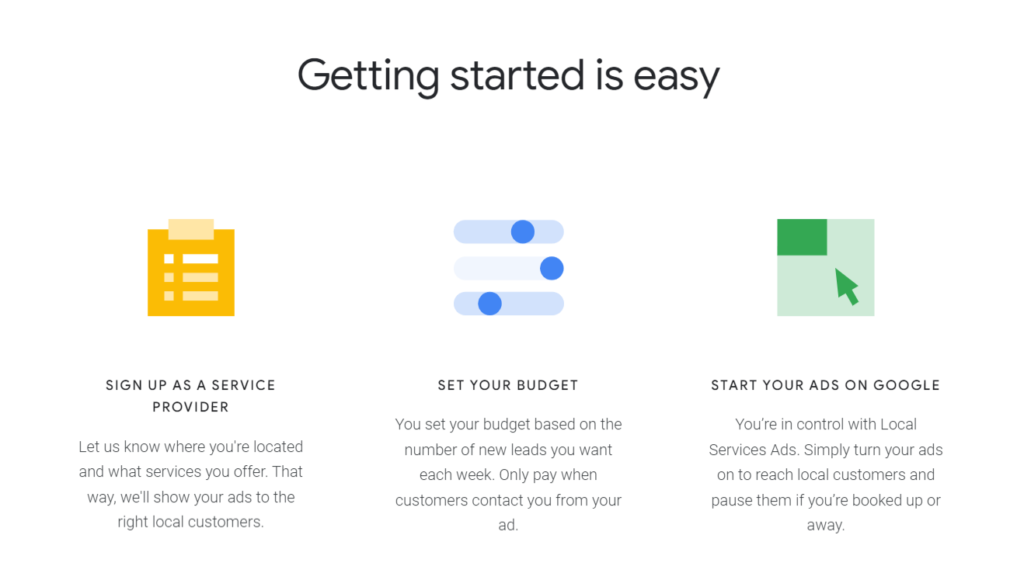 Google local service ads makes it easy for every local service providers, here are the best practices to follow for better ROI;
Local Service Ads | Work with Google Partner or use individual account
If you're looking for a way to promote your local service, you have a few options. You can work either with a Google Partner who can help you create and manage local service ads, or you can use your own individual account to promote your service.
Both options have their pros and cons – a Google Partner can help you create high-quality ads that will reach a wide audience, while using your own individual account can be more of a daunting task. However, using your own individual account may limit the amount of control you have over the ads and how they're displayed, so it's important to choose the right option for your business.
Either way, local service ads are a great way to reach potential customers and promote your unique services. So don't wait – get started today and see the positive impact that local service ads can have on your business!
Local Service Ads | Target no more than one county for each profile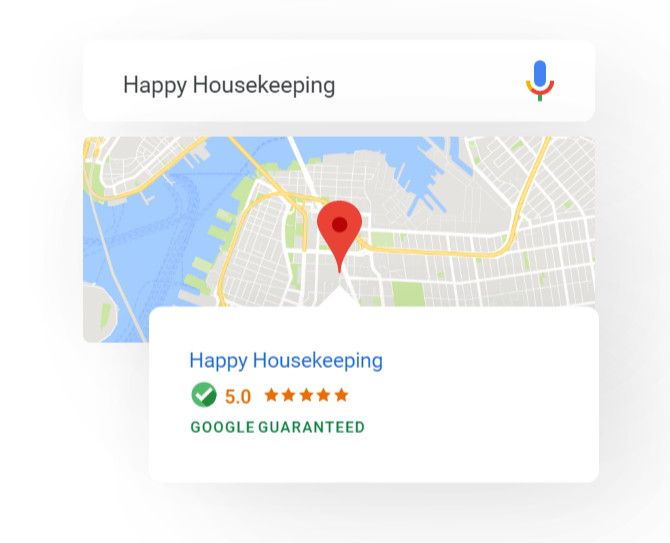 In local service ads, it's important to target no more than one county for each profile. By targeting a specific county, you're ensuring that your ads are reaching the right people and you're not wasting your time and money on ads that won't have any impact. Plus, by limiting your target audience this way, you're also reducing the chances of running into fake reviews or complaints. By targeting local service ads this way, you'll be able to reach the people who are most likely to need your services.
Each local service ad profile should be viewed as a market, where you can target your audience and find the customers. However, when targeting an audience through Local service ads, do not target more than 3 major markets in each profile, we would recommend targeting only 1 county for each profile. Especially, make sure your business is in close proximity to the county or the locations you target.
Local service ads are ranked based on proximity distance between you and your customer, and positive reviews. The closer you are to potential audiences with more positive reviews, you gain the upper hand in finding more leads in the locations you target.
Local Service Ads | Avoid disapprovals
Here are some of the most common reasons, Why your local service ad may stop running? It can be due to;
In local service ads, you have to update your business insurance and certificate details in order to run an advertising campaign. If the certificates get expired, your ads will stop serving.
Billing Issues

No Remaining Budget

Late response time
More Negative Reviews
Less Ad rank score
Complaint raised by the customer
Local Service Ads | Manage Google reviews
Managing your positive and negative reviews is important in local service ads. It can help you attract more customers, and it can also help you maintain a good reputation.
Reviews are one of the ad ranking factors used by Local service ads. Where more positive reviews give you an upper hand in ad ranking, even if your local service ad bid is lower or similar to your competitor.
By managing your reviews, you can help ensure that your business remains positive and attracts new customers.  However, Google also rates your profile based on the number of positive and negative reviews; 
For example: If your local service ad targeting a specific county has 3.8 rating out of 5, then other local service ads above 3.8 rating will be given first preference in ranking. These rating methods also impact your ranking and number of leads you receive, even if your bid is higher than the entire market, only your positive reviews attract more leads.
Local Service Ads | Manage weekly budgets and bids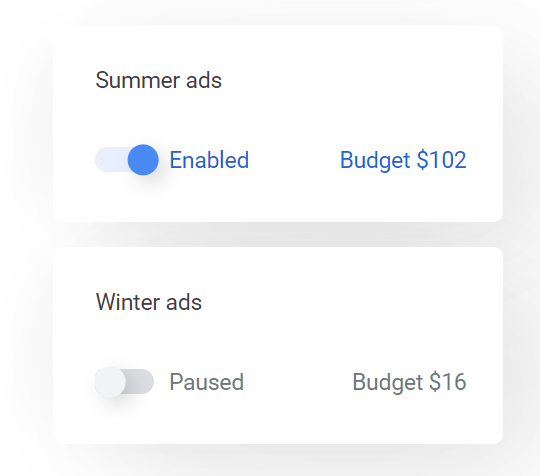 In Local service ads, you can adjust your bid and weekly/monthly budget similar to other Google ad campaigns. 
Tip: If you're going to spend around £1500/month then add the budget 2-3 times higher than what you actually want to spend. This trick is helpful in making local service ads work aggressively and you can also pause the ad once it has reached your monthly budget of £1500.
However, when setting up the bid you have two options, you can either add a bid amount manually or you can set it to "Maximize Leads". This way, you can control how many leads you receive per month/day.
If you're like most business owners, you probably don't have time to manage your weekly ad budgets and bids. That's why it's important to hire Google Partner to manage your ads for you. Google partner will optimize your ads for the best possible results, and they'll also keep track of your results so you can see how your campaigns are performing.
This way, you can spend your time focusing on what you're good at – running your business – and not worrying about the tedious task of managing ads. So why not give us a try today?
Local Service Ads | Choose the services you provide
There are a few things you need to keep in mind when creating your local service ad.
First, make sure the ads are relevant to your area. 
For example: If you're providing lawn care. Make sure the ad features lawn care services in your area.
Second, make sure the ads are accurate. 
For example: If you're offering your services 24/7. Make sure the service you provide in the ad is actually available in the area you target. If you can't take anymore customers, make changes to the timing or pause the ad for time being. 
And finally, make sure your local service ads have good positive reviews.
For example: Make sure the ad has more positive reviews and respond on time.
Benefits of Google local service ads
Increased visibility: Google Local Service Ads (Google LSA) can significantly boost your online visibility as they appear at the top of Google search results. This prime placement ensures that your business is prominently displayed to potential customers, increasing the likelihood of generating leads and conversions.

Trust and credibility: Google local service ads (Google LSA) are only available to verified and reputable local service providers. Being featured in these ads demonstrates that your business has undergone a rigorous screening process by Google, instilling trust and credibility among customers who see your ad.

Enhanced targeting: Google LSA are tailored to specific local service categories, allowing you to reach a highly targeted audience in your area. This ensures that your ad is shown to users who are actively searching for the services you offer, increasing the chances of attracting relevant leads.

Improved customer engagement: Google LSA provide customers with easy ways to interact with your business directly from the ad. They can call your business directly, send a message, or even leave a review, facilitating seamless customer engagement and fostering trust and transparency.

Cost-effective advertising: Google LSA operate on a pay-per-lead model, meaning you only pay when a potential customer contacts you through the ad. This helps optimize your advertising budget by ensuring that you pay for actual leads rather than just impressions, making it a cost-effective option for local service providers.
Ready to setup your Local service ads campaign?
Are you looking to get started with your Local service ads? UTDS Optimal Choice can help you get started. We have years of experience setting up Local service ads, and we're ready to help you get the most out of your campaign.
First, we'll evaluate your current marketing strategy and see if there are any gaps that we can fill. Then, we'll create a tailored campaign that will target your specific audience and goals. Finally, we'll monitor and adjust your Local service ads as needed to ensure maximum exposure and success.
Contact us today to get started – we can't wait to help you achieve your goals!
Most Frequently Asked Questions:
What's the difference between Google local service ads and PPC?
Targeting and Placement: In traditional Google Ads (PPC), advertisers bid on specific keywords and their ads are displayed in search results and other relevant websites based on those keywords. On the other hand, Google LSA are specifically designed for local service providers and are displayed at the very top of Google search results, above organic and traditional paid ads. Google LSA have a more localized focus, targeting users searching for local services in a specific area.

Verification and Trust: To run Google LSA, businesses need to go through a stringent verification process by Google, ensuring that they meet certain requirements and are reputable local service providers. This verification process gives Google LSA an added layer of trust and credibility, assuring potential customers that the advertised businesses have been thoroughly vetted by Google. In contrast, traditional Google Ads PPC does not have this level of verification, making Google LSA particularly valuable for local service providers seeking to establish trust with customers.
Overall, while traditional Google Ads PPC offers broader targeting options and placements, Google LSA provide a localized focus, enhanced trust, and prominent visibility within search results, specifically catering to local service providers.
What's the difference between Google local service ads and local search ads?
Both Google LSA and local search ads target local audiences. However, Google LSA are created specifically for local service provider while local search ads are focused on Brick and Mortar businesses primarily.
Is there a cost difference between traditional Google ads and Google local service ads?
Pay-Per-Click vs. Pay-Per-Lead: Traditional Google Ads operate on a Pay-Per-Click (PPC) model, where advertisers pay each time their ad is clicked. The cost is based on the competitiveness of keywords and the bid amount. In contrast, Google LSA work on a Pay-Per-Lead model, meaning advertisers only pay when a potential customer contacts them through the ad. This cost structure allows local service providers to pay for actual leads, making Google LSA potentially more cost-effective.

Bid Auction vs. Fixed Cost: In traditional Google Ads, advertisers participate in bid auctions, competing with other advertisers for ad placements. The cost per click can vary depending on bidding dynamics. However, Google LSA have fixed costs per lead, predetermined by Google based on the industry, ranking factors, and location. This fixed cost provides more predictability and control over advertising expenses for local service providers.

Tip: The cost of the lead can increase as your ranking drops and your business gains more negative reviews. Basic lead cost can start from just £6 to £25 based on the location and industry, only if you have good positive reviews. However, if your rank drops due to negative reviews, the cost of the lead increases.
Can solo service providers benefit from Google local service ads?
Google LSA are the cryptocurrency of advertising, once you start to gain good positive reviews, more and more customers will start to line up to avail your service. You can be a corporate nor solo service provider, Google LSA makes sure customer satisfaction is the decision maker of your growth.