Google and Facebook are major digital advertising platforms, with billions of users and data sets that help companies to market their products to ideal customers.
As per advertising experts, we frequently come across two similar questions;
Which platform is best for advertising?

Which can truly help my business grow?
We always respond to this question with a simple answer that Facebook Advertising and Google Advertising have not much of a difference. Both have similar Pay Per Click (PPC), so what makes them unique is how they target the audience and narrow down specific groups of audience using attributes, insights etc…
How Online Advertising has stormed into 2022?
Customers' interest and needs for information, products, and services have steadily increased as a result of their reliance on online platforms. In recent years, the businesses that were depending on organic growth have shifted their focus to advertising which created an impact on business growth within a short span of time.
As per the data by Statista, digital ad spending has increased to almost 615.92 billion US dollars without a declining ratio and steady growth rate.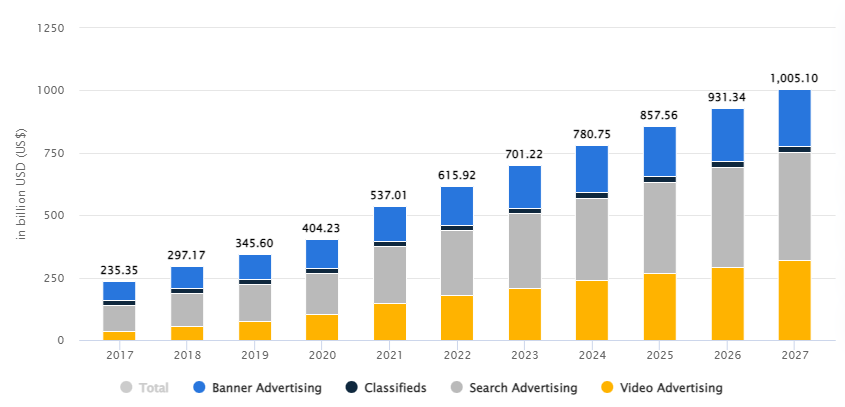 Facebook Ads vs Google Ads: Which will help your business grow?
Until recently, many advertisers viewed Google Ads and Facebook Ads as competitors, due to their rising users and data to market the product among a wide range of audiences within a click. 
As of now, with the data gathered from multiple sources, we can give you a clear idea of "How your advertising campaign goals can be aligned with either of the advertising platforms?" or both of them based on your budget.
Here is How to choose which advertising platform can work better for you?
On one side, Google has placed itself at the top as the most used search engine and users' first preference to search online. On the other hand, Facebook has almost 1/4th of the world's population as its user. So both the platforms have a wide range of audiences and the best place to advertise too. 
Here are the advertising campaign factors you should consider before opting into advertising or running an online ad campaign on any of these advertising platforms.
Campaign Goal
Before investing in an advertising campaign, you should have a goal
What do you want to gain through advertising?

Do you want to create impressions and increase reach? or

Do you want to increase sales, gain leads, reach potential audiences etc..?
So have a clear plan about, Why do you want to invest in advertising? Clears your way to choose which advertising platform is best for you.
For Example: Google Ads can help you reach ideal users whose intention is to purchase. While on the other hand, Facebook ads help you reach a wide range of audiences and create brand awareness. ( Depends on what you want to sell and where your audiences spend more time, contact us to help you filter your audience and give you a clear campaign goal)
Advertising Budget
The advertising budget is the first and foremost pillar of advertising strategy for every company. Most of them prefer (ROI) for every dollar invested in Ads or maximize your return on Ad Spend (ROAS). 
For Example: Consider you have a daily budget of $150 and wanted to create awareness for your brand or to create more impressions which could help your website rank on the Search Engine Results Page (SERP). 
Here is how it works: In Google Advertising, you'd have to choose a specific keyword to which you want to rank your business or product or service you offer. If the keyword you have chosen has a high Cost-Per-Click(CPC), like $30 to advertise under that keyword. It can give you just 5 clicks per day. While on the other hand, using the same $150, you get to reach a larger audience through Facebook advertising.
It's all about having a clear understanding of "How you can align your campaign goals and choose an advertising platform that can get you expected results within your budget"
Google Ads vs Facebook Ads: Which one should you choose?