At the end of November 2021, Google announced the launch of Google Performance Max Campaign at the Marketing LiveStream 2021 event. The primary objective of the google performance max campaign is to generate leads, drive both online and offline sales.
The interesting thing is, this entire campaign runs on Automation and Advanced Machine Learning. In this blog post, we will help you understand How Google Performance Max Campaign is different from other advertising campaigns? And How most of the companies have started to gain upper hand with Google Performance Max Campaigns?
It's always unpredictable to define online consumer behavior, where most of the businesses try to understand or predict the growth, using year to year sales data. Similarly, most advertisers use an entire year or few months of data to create Google Ad campaigns that can drive better results with precise Google Ad targeting and increased performance.
Thankfully, advertisers don't have to stack up all the data anymore. This new Google Performance Max Campaign, automates google ad buying across Google Ad campaigns and improves the performance of the campaign.
Google Performance Max Campaign: The new era of advertising through Automation and Machine Learning
What is Google Performance Max Campaign?
The Google Performance Max Campaign is a new type of automated google ad campaign, that uses Artificial Intelligence and Advanced Machine Learning to display responsive ads across;
Search 

Display 

Discover Feed 

Gmail

YouTube

Shopping Ad Inventory

Maps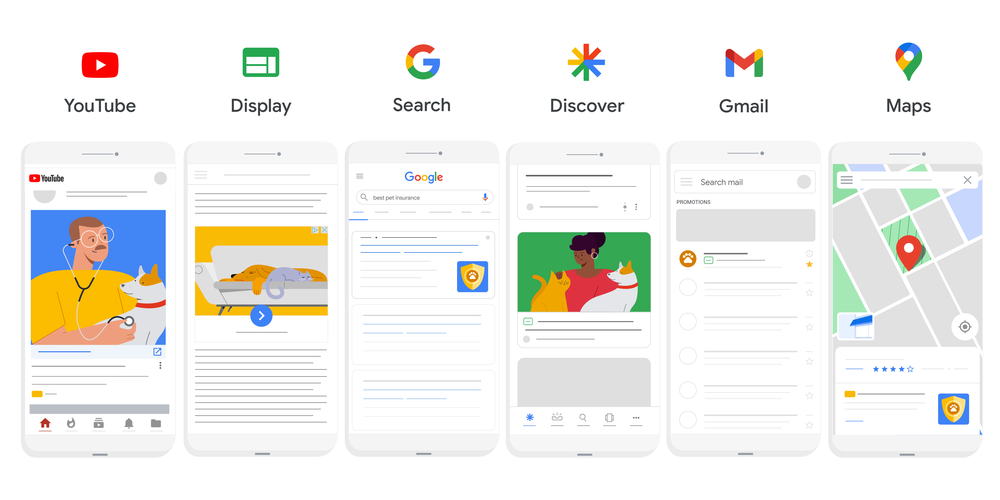 It may seem like just another normal Google Ad campaign, however Google Performance Max Campaign is a lot more than that. For the last five years, Google has been aiming to build automated google ad campaigns that can bring in better performance to advertisers and increased conversion ratio based on advertisers goals.
How does the Google Performance Max Campaign work?
Google Performance Max Campaign is a goal based campaign that uses advanced machine learning and automation to maximize campaign performance with an optimal bid. 

With focus on goals, Google Performance Max Campaign uses automated bidding and audience signals to help you invest your budget more efficiently across ad campaigns, which have highest Return on Ad spend (ROAS) possibilities.
Tip: Google Audience Signal is none other than Audience Attributes where you point out the audience that are most likely to convert.
Key Features of Google Performance Max Campaign
URL Expansion:

Through advanced machine learning, performance max campaign displays the URL of the website landing pages in ad campaigns relevant to user search terms. Where you can include or exclude specific URL or automate the entire process.

Asset Groups:

Google Performance Max Campaign uses

asset groups

instead of ad formats. This asset group is a mixture of ad requirements that are displayed as per user search term across every Google Ad Channel

Audience Signal:

Use Audience signal to indicate or point out specific audience attributes that are most likely to convert.

Insights:

New

Insights

section which is still in beta mode has forecast, demand, and consumer interest section. It helps you plan ahead and build your campaigns according to it.
Benefits of Google Performance Max Campaign
Automation optimizes your budget and bids across all campaign channels to help you gain new conversion opportunities.

It helps you unlock new audience segments by using Google's Real Time customer intent data to display the ads at right time
Tip: According to Google's Data, 71% of online shoppers have opted to purchase a product after seeing an ad at the right time.
Google Partner Albania | Have you launched your performance max campaign yet?
We are UTDS Optimal Choice, a reputed website design agency and a Google Partner in Tirana, Albania. We have worked with wide range of clients, alongside multiple industries to create a foot print for their business in the current market. Do contacts us at "contact@utds.al" and let us know, How can we use our expertise and help your business grow.