Content Marketing is different from traditional advertising, that helps your business in long term growth. Frequent optimization of content in website, blog posting, and social media posting are the crucial roles of content marketing.
When it comes to content marketing, you can't expect results immediately just by posting a few blog posts and social media posts. As per Content Marketing experts, it takes almost six to nine months to gain the expected results in content marketing. That's why we call it long term growth and Google ads as growth in a short time.
How Content Marketing can help your business grow ?
A Successful Content Marketing initiative includes
SEO ( Search Engine Optimisation)

Quality Writing

Clear Objectives that are Audience Oriented
Search Engine Optimization(SEO)
Search Engines like Google, Yandex, Bing, Baidu and other few local search engines like DuckDuckGo or Ask  crawl through your webpages to find the relevant content based on the keyword search. So optimizing your website for the relevant keyword that represents your business or product will get your website ranked in SERP(search engine results page)
In Content Marketing, SEO is the best way to create visibility in Organic Search.
For Ex : Consider you're searching for a specific dress with certain material or brand. Google fetches the websites that have relevant content related to your search term.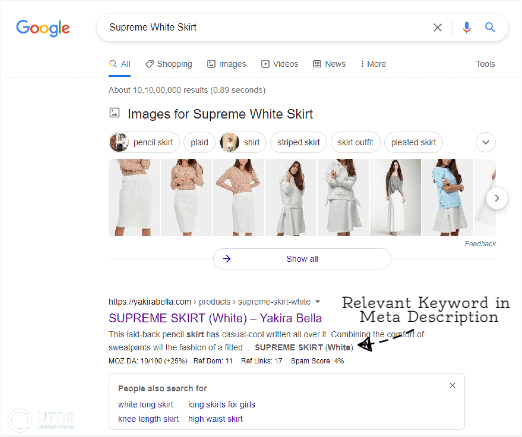 Here I have searched for a "supreme white skirt" , so the website that had the relevant keyword ranked at the top. As you can see their description and title, points out the exact keywords we have searched in Google. That's how SEO in content marketing works, relevant keywords and good content will bring in organic views as well as rank your website in organic search.
Quality content written in a website gives credibility to brand, product and as well as business. There are three types of content reading audiences
The Content written in your website, blog posts and Social Media should be easily understandable to even a teenager. If your targeted audiences are teenagers, writing blog posts, optimizing website content and social media content should impress your audience as well as should have relevant keywords.
For Ex:  This is Nike Blazer , their audience for this specific product is none other than a kid. If you check the description of the product, it's clear and precise that makes it understandable for a teenager. There wasn't any oxford words or keyword stuffing about material and quality. It was precise to make a kid understand, it's comfy.

Stuffing keywords and blabbering from the top to bottom of the page will eventually ruin your brand value as well as the credibility. So keep it precise, plain and write based on your targeted audience.
Clear Objectives that are Audience Oriented
As we have seen in our previous article about "Importance of Professional Website", there are three types of audiences for business, brand, and product.
Before starting to discuss audiences, the first thing you have to do is create a set of goals for the website, blogs and social media posts.
Goals
Whenever there is a new viewer to your website, the first thing they do is go through the contents to understand the purpose of the product or business and credibility of it. Research shows that a person usually spends not more than 2 – 3 minutes on a website page. So keeping your contents relevant, instead of bragging can convert a normal viewer into a customer.
Frequent blog posting and social media posting about a product or business is a long term growth strategy. But giving some time between each post will help you understand your targeted audience interests, rather than stuffing up your entire blog page and social media page. The time variation between blog posting and social media is different, so don't confuse it with each other.
As per content marketing experts, you have to wait 6 – 9 months for the expected results and to rank in organic search. But Content Marketing is vital for every business that needs a value behind their brand and product. So do not give up, if you're looking for immediate results now, contact us for Google Ads campaign that can bring you faster growth to your brand and increase your sales in a short period of time.
Audiences
Even if you go through the entire google data, you can find only three types of business audiences
Online Selling

Offline Selling

Branding
Once you have planned your goal and are ready to curate the content of your website, blog post and social media post, this is for you
You can be an online product seller or service seller, but understanding the basic logic of what people search will help you curate contents for better content marketing growth. Users who are looking for certain products online, they have certain keywords in mind related to the product. We are a Digital Marketing Agency, so we know many  of our ecommerce clients want to write the entire product features and descriptions. However,  based on our expertise, we suggest writing only specific details that can impress a visitor and match their search queries, leading them  to purchase your product.
 Consider you're a famous barber or massage therapist or any offline product seller and service provider. Your audience may  have few questions in mind before reaching out to you or booking your service. First considerations may be,  the credibility of your product, value of your brand and product quality. People don't spend much time choosing a "phone a friend option" to check the credibility of your product or service. So they literally come to a decision based on how you represent yourself and how you elaborate the importance of customer satisfaction.
In Branding websites or authority websites, the sole purpose of content marketing is used to create credibility over a business and product. If you're in the manufacturing industry or construction industry who wants to share the portfolio of work done, then a simple authority website with good content marketing will be the best place for your clients to go through and understand your brand reputation as well as value.
How can we help your business grow?
We are UTDS Optimal Choice, a Google Partner in Albania. From Advertising to Content Marketing, we make sure your business outranks your competitors and ranks in first page of Search Engine Results Page (SERP). Do contact us now at contact@utds.al and let us know how can we help your business grow.