In the last few years, the growth of investment in advertising has skyrocketed to new heights. To be precise, the dependence of people towards organic growth has shortened while dependence towards advertising has increased a lot due to numerous upgrades in multiple platforms like Google, Facebook & Instagram, LinkedIn, Tiktok etc..
However, advertising is a concept of reaching out to the right audience, where your audience spends most of their time. It can be classified into two types,
Search Engine Advertising

Social Media Advertising
The search engine and social media preferences may vary according to the regional advertising policy. Especially if you're advertising through search engines for customers within China, Baidu is the only search engine that can truly fetch customers through advertising within China. When it comes to social media, TikTok and only a few other platforms work within China.
In this post, we will describe the reason behind the rising dependence on advertising and How you can use it to grow your business?
How Social Media Advertising paved the way for 80% of Startups to grow into the future?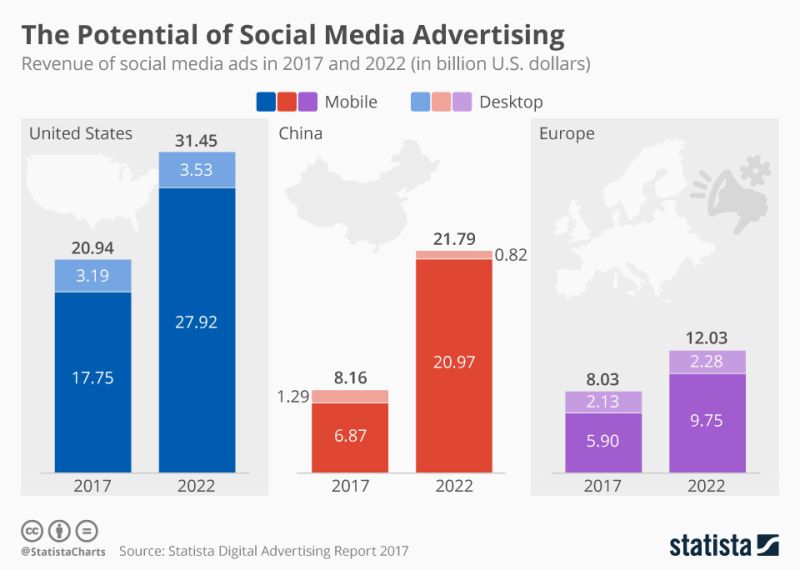 Recently, the potential reach to a wide range of audience through social media hasn't created much of an expected engagement, despite using every organic marketing strategy like tagging influencers, using trending hashtags, long form or short form content etc..
In one of the recent trending incidents, Facebook stock crash. Most of the companies pointed out the reason could be due to "Metaverse". However, there is one solid reason that stood out which made Facebook conduct a high level meeting after a long time.
From time to time, people are intrigued by a product or company that grows along with them. A company that doesn't grow or adapt to the trends are often left behind. Especially, when it comes to facebook, facebook had a certain set of features that entertained it's users for a certain period of time unless, Instagram, TikTok, popped out of nowhere with different features focusing on specific categories to entertain the users.
When you try to learn about "Why Facebook purchased Instagram and WhatsApp?" you would eventually come across this specific answer, "Facebook considered both of them a threat to Facebook Growth into future" 
As social media platforms queued up with new features, it caused the audience to engage in multiple platforms at the same time. The engagement ratio has been split between multiple social media platforms. 
This frequent change in audience adaptation and engagement growth has become a growing issue for startups and businesses that rely on organic social media growth. Which undoubtedly paved the way for increasing reliance on Social Media Advertising; as shown in the chart above (data from Statista), you can see the growth of Investment in Social Media Advertising has skyrocketed between 2017 and 2022.
Why has Google updated its advertising policy and started to focus on "Mobile-First"?
Google Mobile-First update
As the name suggests "Mobile-First", Google has started to give importance to mobile users, due to rising mobile users and rising google searches through mobile. In the current scenario, 3 in 5 visitors to your website will be mostly from mobile users. 
Most of them might come up with a question "Don't we have mobile optimized websites already? Then what's new with the Mobile-First update" 
Good question, with the "Mobile-First" update, Google is giving priority to mobile optimized websites, as most of the companies do remove the some of the contents when optimizing the website for mobile. So to give equal importance to mobile users, Google has made it mandatory to make sure every mobile optimized website has the same content similar to the desktop website.
If you're going to ask, What would happen if you don't update the mobile optimized website? Google has decided to index your desktop website through your mobile optimized website, so a missing content in the mobile version of the website won't be indexed nor will you receive traffic. Check the best practices from Google Developers.
Google Advertising Policy
The reason we said about the "Mobile-First" update prior to this, is to make you understand How Google has updated its Advertising Policy to comply with the Mobile-First update?
This new Google Advertising policy has major updates in these four types of Google Ad categories. 
Prohibited Content

Practises

Restricted Content

Editorial Ad requirement
Do check our post in LinkedIn for details about the Google Advertising policy updates in each category.
Google's advertising policy have been updated frequently, to show ads relevant to users search term and increase Ad returns. This time, the Google advertising policy is completely focused on following strict norms and creating a safe online environment for every mobile user. 
Most of the mobiles do come with a parental control where you can opt-in or opt-out for ads and relevant search results, restricting certain contents or websites that might do harm to the kids. So this entire new Google Advertising policy update has made sure to create an online environment where Google can provide relevant Google Ads for users search term and remove the ads that might cause harm to the individual.
Three Strike Google Advertising Policy
This is one of the updates that created panic among Non-Google Partners, Google has updated it's warning policy to completely ban a Google Ad manager account if a user doesn't follow the updated advertising policy.
Here are three warnings before Google bans a users Google Ad Manager account
Warning: If your Google Ad does not adhere to the policies outlined in the preceding "Google Advertising Policy," you will be warned and the Google Ad will be removed immediately. There are no more penalties.
First Strike: If you violate the Google Advertising Policy within 90 days of receiving your "warning," your Google Ad Account and Google Ad Campaign will be suspended. Where you can't run any Google Ads for three days.
Second Strike: If you violate the Google Advertising Policy again within three days of the "First Strike," your account will be placed on hold for seven days. This is your final strike before your account is suspended and all of your Google Ad Campaigns are terminated.
Third Strike: If you violate the Google Advertising Policy after the "First and Second Strikes," your Google Ad account will be completely banned, and any Google Ad campaigns that are currently running will be stopped or removed.
How an advertising agency in Tirana can boost your business growth?
As a reputed Google Partner in Tirana, it is our responsibility to inform you about specific updates that can be extremely beneficial to you. We are UTDS Optimal Choice an expert in advertising, adhering to the advertising policies in both search engine and social media platforms. As one of the best advertising agency in Tirana, we take pride in being one of Europe's most reputable Google Partner, and most importantly, we don't have a pricing list for you to worry about. Our pricing is based on your needs, and we may even make some recommendations to help you drive more customers to your business and reach a wider audience. Nonetheless, you are the decision-maker. So How about a Call?