On October 22nd 2023, the streets of Tirana will be filled with athleticism, spirit, and purpose as runners from around Albania and beyond, unite for the annual Tirana Marathon. 
This prestigious sporting event holds special significance this year, as the team from Down Syndrome Albania proudly gears up to participate with sponsorship from UTDS Optimal Choice. The support exemplifies the power of collective action to drive meaningful social impact.
Uniting for a Cause: Tirana Marathon 2023
Tirana Marathon 2023 - Sporting Spectacle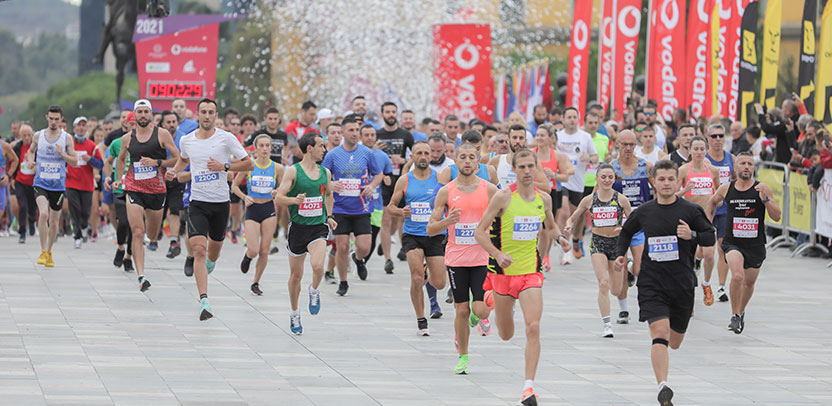 The Tirana Marathon is Albania's largest running event, attracting thousands of participants and spectators annually. The race weaves through the heart of Albania's capital city, taking runners past iconic landmarks like Skanderbeg Square, the National Museum, and much more. 
The 2023 edition will feature the usual highlights – the full 42.2 km marathon, half marathon, we too, and 10K races. Top Albanian and international athletes will be competing for the podium, while amateurs challenge their personal limits. 
Changes for 2023 include an updated route to minimise road closures and a new finisher's medal featuring the city's landmarks.
Whatever their pace or purpose, one thing is guaranteed – the energetic vibe and electric crowd support around the Tirana Marathon creates an unforgettable experience for all involved. It is undoubtedly a highlight sporting event for the Albanian calendar.
Down Syndrome Albania - Beacon of Hope
Down Syndrome Foundation Albania (DSA), is a non-profit organisation that provides therapeutic services (such as speech therapy, ABA therapy, developmental therapy, physical therapy, etc.) for children with disabilities.
While the Tirana Marathon caters to all fitness levels, it holds particular significance for the team at Down Syndrome Albania (DSA). This inspiring organisation provides critical support and resources for individuals with Down syndrome across Albania. 
Down Syndrome Albania (DSA) mission is to advocate for equal rights, promote inclusion, and empower those with Down syndrome to achieve their full potential. They provide counselling, education, job training, and much more for the individuals and families. Participating annually in the Tirana Marathon helps raise funds and awareness for Down Syndrome Albania (DSA) cause.
Currently, 42 children (0-13 years old) receive specialised services at the PRO PAK Services centre of DSA, of which 15 have Down syndrome, 24 are on the autism spectrum and 3 children with other medical diagnoses (such as  hearing loss, children with cochlear implants who need speech and language therapy).
DSA's team is always a highlight at the marathon. While not elite athletes, their dedication and enthusiasm energises everyone around them. Their involvement showcases that with the proper support and acceptance, those with Down syndrome can accomplish incredible things.
Our company is sponsoring DSA's team as part of our corporate social responsibility efforts.
We recognise that successful corporations have a duty to contribute to society beyond financial performance. By supporting charitable organisations like DSA, we aim to create meaningful improvements for global communities.
Our sponsorship for this year's marathon includes funding for multiple marathon related expenses. More importantly, it provides a moral boost for the DSA team to know they have the backing of partners who believe in their abilities. 
Through our support, we would like to highlight how companies can effectively give back through well-aligned social impact initiatives.
How You Can Make a Difference
While we have already committed to supporting DSA's Tirana Marathon efforts, we cannot drive change alone. It takes a collective effort from many sources to empower organisations like DSA to keep making a difference.
You can directly support DSA's inspirational team and their ongoing advocacy for Down syndrome by donating to their marathon fundraising campaign. Every small contribution goes towards changing mindsets and lives for the better.
Beyond monetary donations, raising awareness through conversations, social media or any other means can significantly bolster DSA's reach and impact. You can also get involved by volunteering your time and talents towards DSA's programs and events.
By coming together, we all have the power to uplift communities and catalyse a more inclusive society.
Let's March Together to Build Their Footsteps
Tirana Marathon 2023 will be an uplifting event highlighting the pinnacles of human potential. While elite athletes chase records, organisations like DSA will remind us that achievement relies not on physical capabilities but on the determination of spirit. 
However, building a society where all can thrive requires a continuous collective effort from corporations, nonprofits and citizens alike. We invite you all to stand together and support each other, like we stood together during the time of hardships and calamities.
We must constantly find opportunities, whether big or small, to reinforce the values of inclusion, empowerment and equality. The Tirana Marathon provides just one avenue to transform beliefs into actions. You now have the chance to play your own role in driving social change for the better, by supporting DSA in any way possible.