There are numerous ways to sell a product online, like Multichannel Selling through drop shipping or sell your own product through an online store. However, the common question is, Are you truly reaching out to the right audience? How about if we say, Google Shopping Ads can make your products visible to millions of users with just the cost of pay-per-click(PPC). Here is how to kickstart your online sales and revenue in 2022.
Everyday millions of users search for a product online, especially in Google search. Compared to number of direct search in E-Commerce websites like Amazon, and Alibaba etc… These millions of searches usually fetch results from online selling platforms, where users get to go through a link and decide if they should buy it or not. 
Tip: According to Google Data, 51% of shoppers researched about the product before purchasing it
So whenever Google thinks, certain searches are trending. They either upgrade them or build a solid platform to cope along with the trend. Seamlessly, Google created Google Merchant Center where you can display your products and sell online, like every other online selling platform similar to Shopify, Strikingly, BigCommerce etc…
Even if you have a lot of products in your online store, Google Shopping can display your online store products, if they can be fetched through the Merchant Center or website with Product Structure Data.
Tip: Create a product structure data in your product page, so Google search bots can crawl and understand your product pricing, categories etc..
Google Shopping Ads: How to kickstart your online sales and revenue in 2022
What is Google Shopping Ads?
If you're an online or offline seller and still using Google Display Advertising campaigns to drive sales, you might be missing the real growth stability. One of the significant advantage of Google Shopping Ads, it is better than Google Display Ads (This term isn't applicable to every business, it's just for online and offline product sellers, who can't get expected results through Google Display Ads).
The Google Shopping Ads is an advertising campaign run for products in  Google Shopping, which is also a search engine like Google Images, videos etc.. You can add your products directly to Google Merchant Center or use the product structure data in your product page to make your products visible in Google Shopping Tab.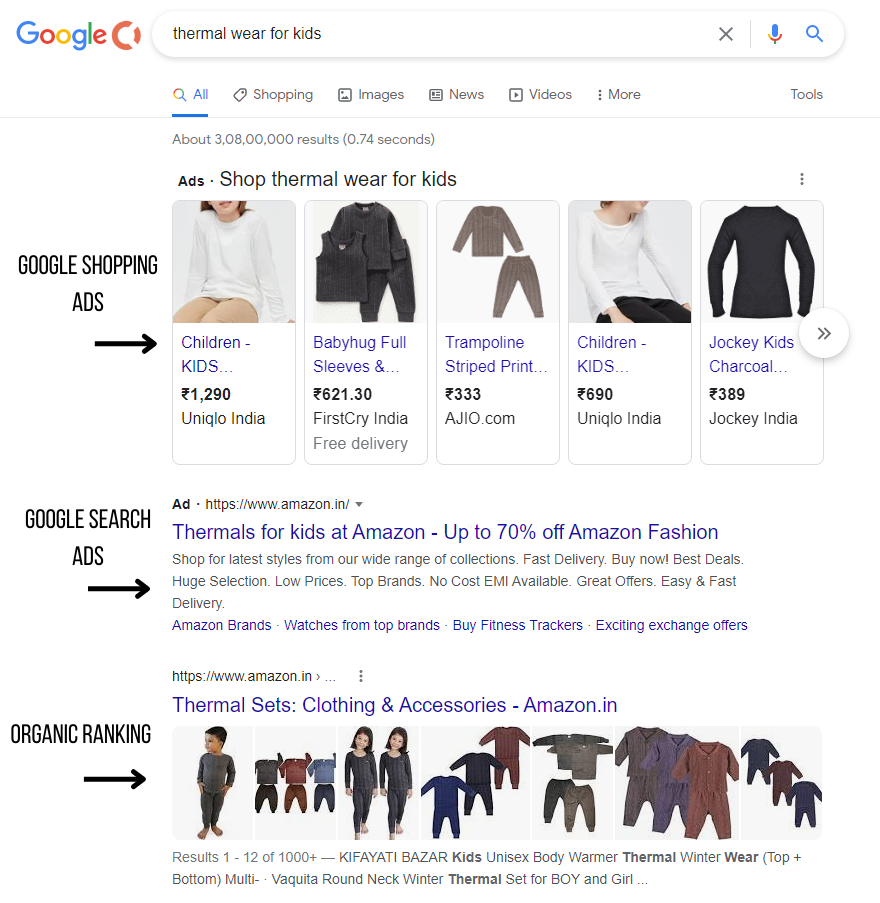 How Google Shopping Ads work?
8 out 10 people start with a product search in Google compared to the number of viewers who directly visit the website. If you've used Google search ads, we can place two types of Google Search Ads, where a user gets to purchase online through Google Search Ads or pickup from the nearby store. This boosted sales in both online and offline store.
However, the real problem advertisers faced, most people have to click the search ads in order to look at the product on the website and product descriptions etc… Every 5 out 10 users who visit your product through search ads, leave the website without purchasing, this No SALE click costs advertisers and as well as high bounce rate (Not good for website).
Google Shopping Ads rectified this problem and increased the conversions, by making your products directly visible in the Google Search tab. Where a user can view your product images, ratings, and enter your website with high intent to purchase your product. Which increases the probability of purchase compared to viewers through Google Search Ads.
Types of Google Shopping Ads
There are two types of Google Shopping Ads,
Standard Shopping Campaign

Smart Shopping Campaign
The primary difference between standard shopping campaigns and smart shopping campaigns is Manual Ad setup and Automation with Advanced Machine learning.
What's the difference between Google Standard Shopping Campaign and Google smart shopping Campaign?
| Google Standard Shopping Campaign | Google Smart Shopping Campaign |
| --- | --- |
| Full control over the shopping campaign | Completely Automated |
| Complex manual process to set up the shopping campaign | Easy to set up |
| Full control over location targeting | Limited location targeting possibilities |
| You don't need any historical data to run the shopping campaign | You need historical data to run the smart shopping campaign efficiently |
| You can add negative keywords | You can't add negative keywords |
| You can decide scheduling | No Possibility to schedule smart shopping campaign |
| You can decide network placement | You can't decide the network placement |
| You can adjust your Bids | Automated Bidding |
| Time consuming campaign setup | Saves a lot of time |
Are you ready to kickstart your sales using Google Shopping Ads?
Here is how we can help your business reach new heights. We are UTDS Optimal Choice, a reputed Google Partner in Tirana, Albania. We are a tight knit team of experts from multiple countries. How about a call to know more about us or a free consultation to help you understand, which advertising method will work perfectly for your business.
Note: "UTDS Optimal Choice has been selected among the Top AdWords Agencies by DesignRush"